To celebrate Katy Perry's new film Part of Me coming out, I thought I'd do a blog post all about my favourite lady in pop!
1. Press launch for her perfume Purr in Paris, 2.Performing in the states, 3. The famous crystal dress she wore to the 2010 MTV Movie Awards, 4. EMA awards 2011, 5.Part of Me Hollywood premiere in June 2012 & 6. The watermelon playsuit worn for one of her first performances in 2008.
Katy is known for having quite a bold sense of style from her hair to her shoes, it's a mix of sexy, unique and girly clothing that promotes her own personality and still managed to be an amazing role model for young girls. One of the many things that I love about her is that she isn't completely stick thin, she has an amazing body and knows how to dress herself and show it off in the best way. These are a few of my absolute favourite looks from her
including the amazing red D&G dress at her Part of Me premiere in Hollywood! T
here were quite a few to choose from her many performance and red carpet looks.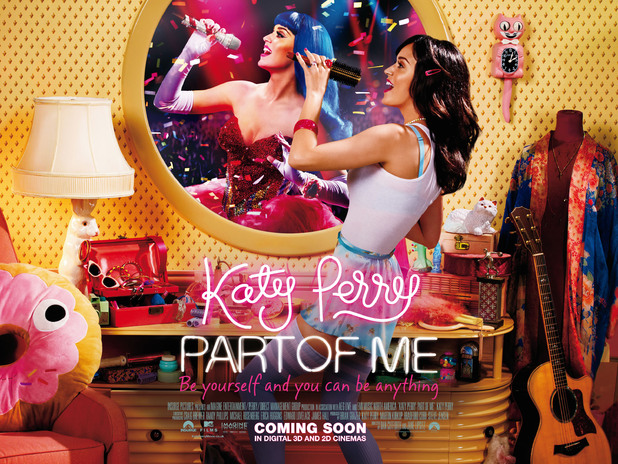 As for the film I absolutely loved it! I can't believe it hasn't done as well as it was supposed to! I'm a massive fan and I was lucky enough to see her California Dreams tour twice last year and loved the concerts so to see the documentary about the tour brought back how much fun I had. The film shows the audience how hard she works and how hard she had to work to get where she is now, as the film tells us she wasn't an overnight success. I'd definitely recommend seeing this film for, snippets of her tour performances, never before seen clips and interviews and a whole new view on Katy Perry's life. The film is a roller-coaster showing her ups and downs in her most hectic year yet.
I also spotted this amazing Katy Perry Wide Awake music video look by Nic from the Pixiwoo girls on YouTube, she's such a great make up artist the eyebrows and lips actually look like Katy's in the video.
I hope you enjoyed this post, even if it's just me fan-girling over my favourite lady!